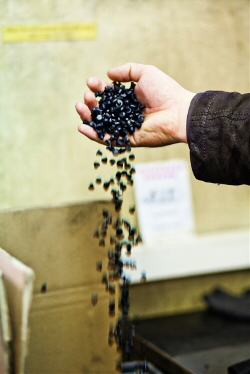 Guma keeps developing. We broaden our product range and try to meet the rising expectations of our Clients. We also invest in the development of our technologies, which help us improve production capacity and the quality of services offered.
Designing and equipment
Our facility has modern machines and equipment. We have built a modern production hall. This made us self-reliant, with the ability of offering comprehensive services. We are open to novelty, which is combined with our experience and long-standing know-how. All designs of products and injection moulds are made in 3D technology. We use advanced CAD/CAM software for designing and processing.
Short delivery times
Thanks to modern equipment and advanced technologies, we can shorten the time for delivery of your orders to minimum, with the highest quality retained. We keep permanent stock for our regular clients. Our in-house tool-shop makes us independent, allowing us to launch the production process in a very short time.
Guarantees
We guarantee that working with Guma ensures:
- highest quality of products and services
- professional service
- short waiting time for completing an order
- good payment terms and competitive prices, which are often individually negotiated
- keeping stable warehouse balances
- free transport for orders above PLN 2 k net
- free maintenance for justified complaints (WARRANTY TERMS)
- highest environmental care (QUALITY POLICY)
Cryogenic cleaning of details
One of the technologies we use, of which we are particularly proud, is cryogenic cleaning of moulded rubber element.
We invite other manufacturers, who do not use cryogenic technologies, to cooperation.
We offer cooperation with regard to:
- cleaning for technical purposes
- cleaning for aesthetic purposes, from overlays and flashes
- levelling visible marks made by the joint of the mould on finished products without damaging the product
Cryotechnology guarantees cleanliness, speed and low cost of services. Cleaning is a repeatable process, using liquid nitrogen, without damaging the actual product. Thanks to the very low temperature and specialised machine-base process, the product is cleaned mechanically. Cleaned details may be applied in such areas, as: hydraulics, pneumatics, or even medicine.
As the details are frozen in specific places or on the surface, and no chemicals are used for cleaning them, nor physical processes changing properties, such as abrasion, the method is safe, fast and cheap. It is also extraordinarily precise, making it suitable for cleaning even long and thin seals. The product retains its shape, colour and properties.